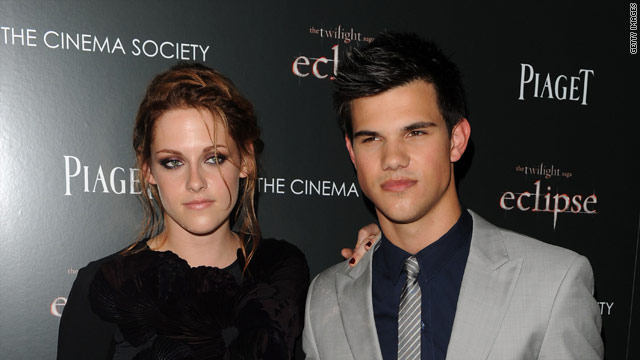 Taking proper precautions in lieu of the tragic tsunami in Japan, Kristen Stewart and Taylor Lautner were evacuated from Vancouver, Canada yesterday (March 10).
The "Twilight" co-stars along with the rest of the Wolf Pack were filming for "Breaking Dawn" in Vancouver's Island beach area when they were told to leave the region.
Reports say the cast was not in any danger, but for safety measures left the coastal location.
Tinsley Korey, who plays Makah Emily Young in the series, tweeted, 'They're evacuating us 4 a tsunami warning. If this…is my last tweet. I love you. The end. Hugz."
source
Twilightlexicon: Summit Entertainment addressed some confusion on how the Tsunami was affecting the Breaking Dawn cast. Various versions of what was happening with the cast started to emerge on Twitter and elsewhere. They released this brief statement on their official Facebook page in order to quell rumor and desensationalize the story as it related to their cast and crew:
"Due to the tsunami advisory, filming of The Twilight Saga: Breaking Dawn has been delayed. All cast and crew were evacuated to the movie production's base camp. Everyone is safe and sound."
The cast and crew were filming in the Tofino area which is on the coast. It's the same area where some of the cliff diving sequences were shot for New Moon. The cast was onsite when moved very early this morning local Pacific Time as a precaution.
Much of the West Coast of North and South America is/was under Tsunami advisory/warning. Additionally, it should be noted that LaPush is also under the same warning. Current thought (as we post this at 1:30 East Coast Time) is that they are not anticipating major damage in the area, but people along the coast should listen to local authorizes and abide by their directives as to what is considered "safe ground".
Several cast members such as Peter Facinelli and Gil Birmingham took to their Twitters with prayers for the victims. Several organizations such as the Red Cross, Shelter Box, and others are reaching out.
Montrealgazette: Among those taking precautions in the wake of the Japan earthquake and tsunami alert is the company fiilming the latest Twilight installment Breaking Dawn.
People magazine is reporting stars Taylor Lautner and Kristen Stewart were warned to stay away from the beach area.
A tsunami warning was issued to B.C. authorities among other agencies at midnight. An update at 1:50 a.m. that upgraded the risk.
Tofino Mayor John Fraser said this morning he had been awake since midnight when the local emergency operating committee was convened.
"It shouldn't come as a surprise to anyone here," said Fraser. "But this one won't affect us, it's so far away."
There was a minimal rise in the water along the B.C. coast.
Parks Canada closed select access points to Pacific Rim National Park P are ensuring public beaches are evacuated.
"Major damage to park infrastructure is not expected at this point," said Laura Judson of Parks Canada.
As a precautionary measure, School District 70 has closed all of its schools in the Tofino-Ucluelet area.
"School District needed to make a timely decision based on information known at the time. In consultation with Emergency Preparedness officials, it was decided to err on the side of caution and close schools to students and staff. Not every school in the district lies within the tsunami inundation zone but many routes to and from schools would take school buses through these zones," said a media release by the district
via allkristenstewart