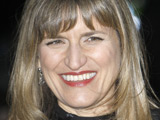 Digitalspy: Catherine Hardwicke has revealed that she considers Robert Pattinson and Kristen Stewart to be "close to [her] heart".
E Online reports that the Twilight director developed a bond with the rumoured couple while on the set of the first film in the vampire franchise in 2008.
"I think they're wonderful; they're super close to my heart," Hardwicke said.
"I'd love to [work with them again], if the right project comes up at the right time, that would be awesome."
She added that she was the first to spot the chemistry between Pattinson and Stewart, explaining: "I was exactly right there when they first met, so I saw it all from the beginning.
"I saw that they both had that wonderful fascination with each other, and that's why I cast Rob [n Twilight]."
Shannon Marx at Metrowny disagree: "Robert Pattinson and Kristen Stewart's first Twilight director, Catherine Hardwicke, says that she would love to have a reunion with Rob and Kristen, and direct them together in a future film. That couldn't be any worse of an idea.
Pattinson and Stewart are great together. Twilight has brought them fame and fortune and launched their careers to heights that they may not ever have known without it. Hardwicke had the keen eye to cast both of them together when she saw that they had great chemistry.
Also, besides having great on screen chemistry, they also have fallen in love, which has added to public's interest in them. But, after Breaking Dawn Part 2, they should never appear in another movie together again. Four movies together is quite enough, especially considering they are a couple. Have you ever worked with your significant other? The stress can be unbelievable not to mention that everyone needs some quality alone time. Couples that work too long together have a much higher failure rate than couples that don't.
The other issue is that Pattinson and Stewart need to separate their careers and have success on their own. Both have made movies without the other, but none of them have been as successful as Twilight. Doing a reunion with Catherine Hardwicke any time in the near future would be a huge mistake. Perhaps 20 years from now, and that's a big maybe."
via allkristenstewart